When you think of avocado bathrooms, you are probably thinking back to the 70s. The trend is back in a big way but it has a completely different (and thankfully much better) look. There are many ways that you can incorporate this medium dark shade of greeen in your home without it being too overwhelming.
Feature walls, tiles and baths all look stunning in this shade of green and combined with white, gold and grey shades. As a natural colour, green is very fashionable this year so there are plenty of shades to choose from to suit your style. There are even bins, towels and taps available to get your avocado bathroom just right.
Creating your avocado bathroom will give a refreshing, relaxing and calm vibe to your space.
See original image here…
Does avocado green work on the walls?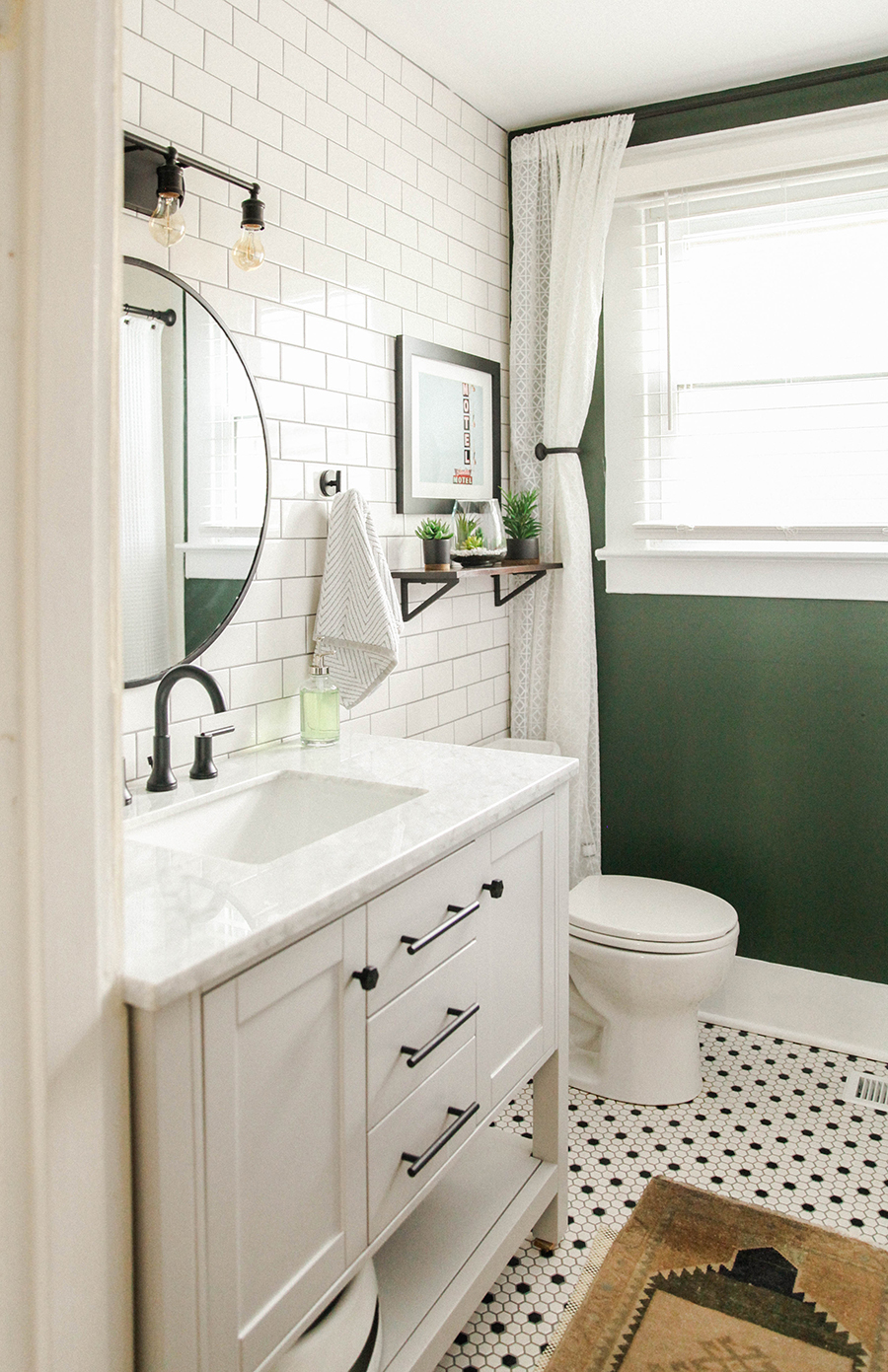 Yes, it really does if you do it right!  Don't be put off by the photos of dated light green bathrooms.  This trendy, mid dark shade of green looks stunning on the walls.
If you decide to refresh your bathroom wall/s with some green paint, an accent (also known as feature) wall could be the way to go.  It's a great way to get an avocado bathroom without going full on green on all the walls.  Choose the natural focal point of the room for the accent wall; this is not necessary the wall you see first when you walk in the room but rather where the point of interest is.  In the bathroom, this is usually where the window, bath or sink is.
Considering the fact that they take on a different hue and a different texture, incorporating a feature wall is an incredible way to add that little extra something to spice up your home.
See original image here..
If you choose to go for all four walls in green, a neutral coloured tiled floor is a great combination to give a fresh look.
Alternatively, try painting your bathroom cabinets and shelves to bring this trend in.
Make sure you choose the right kind of paint as they are not all suitable for the bathroom.  As they are often moist and humid rooms, use semi-gloss sheen for the best results. It's not too shiny, you can easily wipe it down and the extra gloss will act as a barrier for drips and moisture, while also resisting mildew growth.   The same paint is best for the ceiling as well so it can stand up to the humidity and moisture.
If you prefer all the bathroom walls to be lighter and/or neutral, there are still many other ways to get an on-trend avocado bathroom.
Coloured bathroom suites
Another option is to have avocado green fixtures in your bathroom.  Coloured bathrooms suites are back in a big way and there are plenty of options available to suit your style.  Bathtubs, sinks and toilets make the colour the feature of the room and break away from the traditional white.  Stand alone bathtubs are really popular this year and give a luxury hotel bathroom style to your home.
Using a slightly different shade of avocado green on the walls or tiles works well with a coloured bathroom suite, as do neutrals.
See original image here…
What colour goes with avocado green?
Modern and thoughtful, avocado green is complemented perfectly with gold, browns or neutrals in the bathroom.  The fresh, clean look works perfectly for a relaxed, indulgent vibe.  Avocado green can be the base colour or an accent, and you can use different shades to work with the light in your bathroom.
Avocado green tiles are practical and versatile, making an outstanding addition to any bathroom and as a suitable custom accent color for the modern spaces.
Texture clashes are another way to show your individual style. Accents of stone or marble look stunning and are a fantastic way to reflect light in the room, while brass taps or accessories keep a warm feel in the room.
Cool white tiles and accessories are also a great technique for keeping a clean and contemporary look in your avocado bathroom.
See original image here…
To achieve your perfect avocado bathroom, you may want to call in the experts for some help.  Herts Decorators provide high quality and professional decorating services to our clients across Hertfordshire, book a free estimate with our team today!